We realize searching for a new job may be difficult at times. Not only can the competition be tough, but having to go on interview after interview might seem tedious or never-ending. You think you've found the ideal job and you hope you're a good fit, then suddenly you're passed up for someone else.
Don't be discouraged. Maybe the job wasn't as perfect as you might have thought. Did you know, nailing a job interview is more often about outshining the competition than anything else? Yes, being qualified for a position is important, but pedigree and experience isn't everything employers look for in potential candidates. Even though one person may have a few more years in the field or a degree from a top-notch university, your enthusiasm, frame of mind and dedication could easily make you the leading candidate for the position.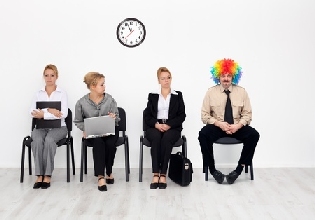 As a job seeker, it is important to keep these tips in mind to help you outshine the competition:
Be Adequately Prepared
Do your research on the company ahead of time. Know what they do, their specialties, their objectives and goals, as well as the role you could play should you get the job for which you are applying. Don't over prepare. You aren't going to want to come across as stiff or robotic. Be ready to answer questions about yourself, your history and your future. Be honest and forthcoming.
Know Your Strengths and Weaknesses
Focus on your strengths, but don't be afraid to show your weaknesses too. We all have them. In most situations, a minor weakness can be easily outweighed by other strengths. For example, even if you don't have years of experience in one aspect of the job, your commitment, drive and ability to get results could easily outweigh that. Experience doesn't always make someone a "good fit".
Highlight What You Bring to the Table
Make sure your interviewer knows what makes you the most ideal candidate for the job. Show enthusiasm, dedication, interest and willingness to learn. Highlight what you bring to the table, not just from the standpoint of your qualifications, but from you as an individual as well. Don't be afraid to endear yourself with your interviewer. You might even want to use these 4 small talk tips that'll instantly make your interviewer like you more.
Be Yourself
Whatever happens, be yourself. Your potential employer wants to know the real you. Trust me when I say your career depends on it. If you think you want the job and would like to work for the company, then it's vital you be yourself. Don't waste their time or your own, if you aren't sure. Being yourself is one of the easiest ways to outshine the competition.
Matching Qualified Applicants with the Right Allied Healthcare Providers
For more than 20 years, The People Link has been successfully matching qualified job seekers with Allied Healthcare providers. To learn more about our services, please visit The People Link or call Mya at 888-773-0014 to obtain a free, no-obligation consultation.